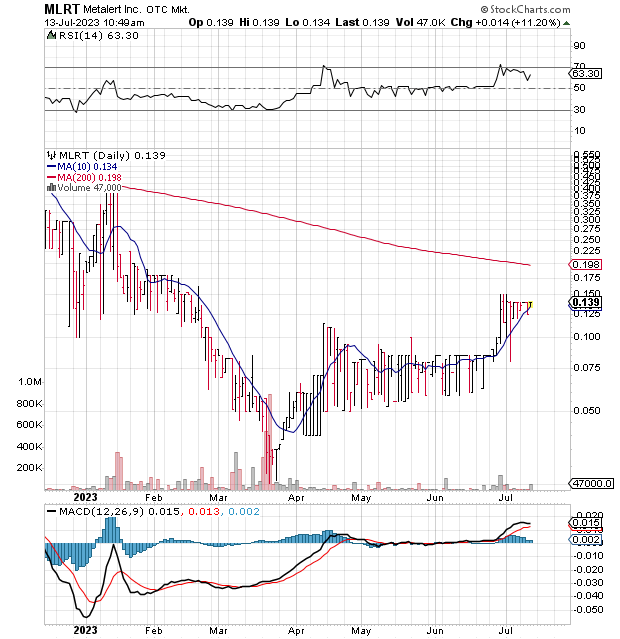 (NEW YORK)–MetAlert, Inc. (OTC: MLRT) recently announced an agreement to offer HandsFree Health's WellBe digital health tool, an AI-powered virtual health assistant. This highlights the growing demand for AI assistants in healthcare and the potential for companies like MetAlert to capitalize on this trend.
WellBe is a voice-enabled assistant that uses artificial intelligence to track health metrics, set appointments, answer health questions, and connect users to telehealth services. The technology aims to improve healthcare access and management, especially for seniors and remote patients.
According to MetAlert CEO Patrick Bertagna, WellBe will enable a "medical concierge and virtual urgent care service" for MetAlert users alongside the company's remote monitoring devices.
The deal comes at a time of rapid growth for virtual health assistants. Recent research predicts the global market for healthcare AI assistants will reach $4.25 billion by 2026 as demand for telehealth and remote care increases.
Major tech firms like Microsoft, Amazon, Google, and Apple are all investing heavily in healthcare AI projects. Smaller startups are also proliferating in the space, aiming to tailor assistants to specific tasks like medication management, symptom tracking, and medical advice.
As a pioneer in remote patient monitoring, MetAlert is well-positioned to capitalize on the healthcare assistant trend. Integrating WellBe's technology into its platform can help MetAlert stand out in the increasingly competitive digital health space while addressing growing needs for accessible, tech-driven care.
The ability to pair vital sign monitoring and emergency response with daily care management in one platform also creates opportunities to generate more subscription revenue per patient. If MetAlert can demonstrate the value of incorporating AI assistants, it may gain a competitive edge over remote monitoring providers that lack intelligent virtual care capabilities.
Ultimately, the deal highlights the substantial market potential for companies that successfully merge AI and telehealth. As healthcare delivery moves beyond the walls of the clinic, virtual assistants look poised to transform how patients and providers manage wellness and collaborate on care. MetAlert's move signals an intent to remain ahead of the curve.
About HandsFree Health™
HandsFree Health™ offers a suite of SaaS for health and PERS needs for consumers and businesses to move individuals closer to compliance and optimal health. HandsFree Health™ makes intelligently designed, fully integrated health and wellness platforms. HandsFree Health™ has quickly become the benchmark for voice technology in healthcare. HandsFree Health™ is the creator of WellBe®, the premier voice-enabled virtual health AI assistant platform. WellBe® is a secure voice-activated assistant, built on a trusted, HIPAA-compliant platform.
Register to our investor newsletter for updates
https://ludlowresearch.com/investors/
---
Disclosures and Disclaimer:
THE MATERIAL HEREIN DOES NOT CONSTITUTE AN OFFER OR SOLICITATION IN ANY JURISDICTION WHERE OR TO ANY PERSON TO WHOM IT WOULD BE UNAUTHORIZED OR UNLAWFUL TO DO SO.
This reports contains certain statements that may be deemed "forward-looking" statements. Forward looking statements are statements that are not historical facts and are generally, but not always, identified by the words "expects", "plans", "anticipates", "believes", "intends", "estimates", "projects", "potential" and similar expressions, or that events or conditions "will", "would", "may", "could" or "should" occur. Although the Company believes the expectations expressed in such forward-looking statements are based on reasonable assumptions, such statements are not guarantees of future performance and actual results may differ materially from those in forward looking statements. Forward looking statements are based on the beliefs, estimates and opinions of the Company's management on the date the statements are made. Except as required by law, the Company undertakes no obligation to update these forward-looking statements in the event that management's beliefs, estimates or opinions, or other factors, should change.
Ludlow Research ("Ludlow"), and its parent company Ludlow Consulting, LLC, are not registered broker-dealers or investment advisers with the U.S. Securities and Exchange Commission, the Financial Industry Regulatory Authority ("FINRA"), or any state securities regulatory authority.
Content contained herein includes facts, views, opinions and recommendations of individuals and organizations deemed of interest. Ludlow does not guarantee the accuracy, completeness or timeliness of, or otherwise endorse these views, opinions or recommendations, or give investment advice. Ludlow, its affiliates, or directors, may or may not hold a position in the above security from time to time, and investors are encouraged to consider this as a possible conflict of interest when reviewing this information. In Compliance with SEC Rule 17B Ludlow was not compensated at time of this research alert. Investments is speculative 'penny stocks', as defined by the SEC, may involve a high degree of risk.
INVESTORS ARE HIGHLY ENCOURAGED TO CONSULT WITH A FINANCIAL ADVISOR BEFORE MAKING ANY AND ALL INVESTMENT DECISIONS.