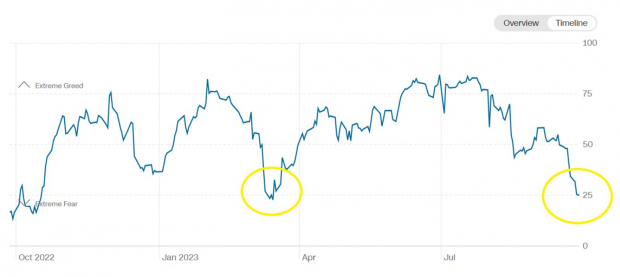 Buy Signal: Fear Index Hits Extreme High
Fear & Greed is best used as a contrarian indicator. In the words of General George S. Patton, "If everyone is thinking alike, then somebody isn't thinking." The fact that CNN's Fear & Greed Indicator is at an extreme greed level and is at the lowest level of 2023 should give bulls hope for a year-end rally.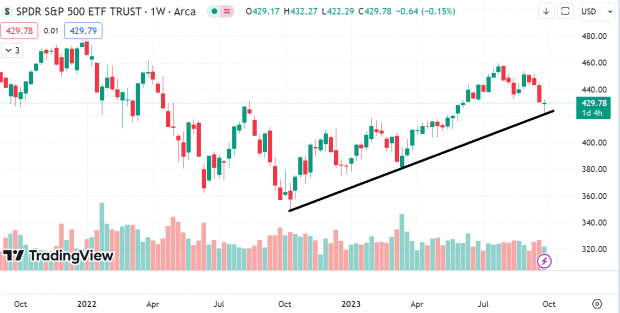 S&P 500 Weekly Chart
S&P 500 Index ETF (SPY) found support at its weekly trendline suggesting possible Q4 rally in equities – a bullish sign.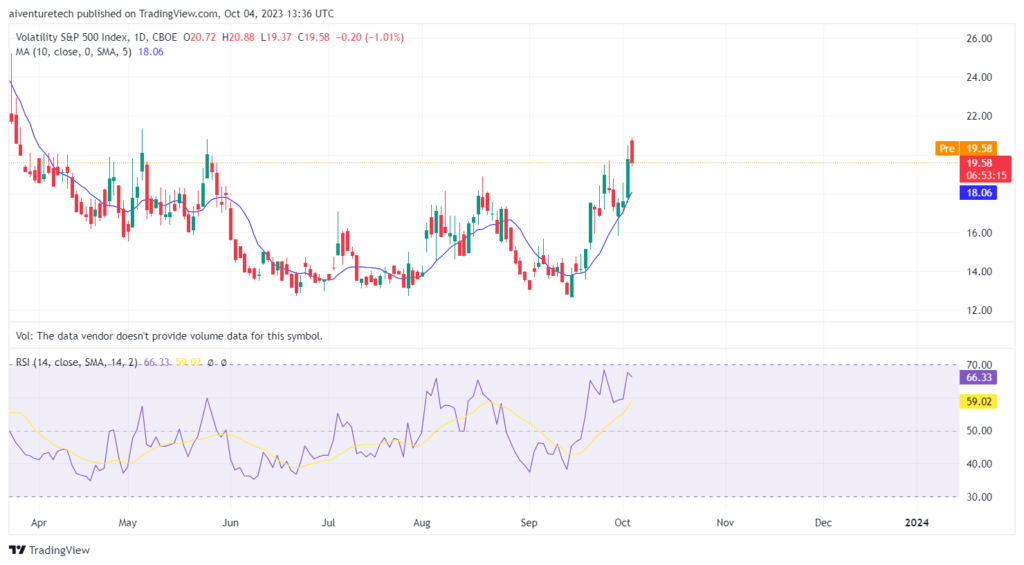 RSI on VIX Indicating Bottom Forming
On any pullback, it's always great to look at VIX indicator, which measures fear, to find near term bottoms in any market sell-off. With the RSI on VIX now nearing 70 a bottom in equities may be forming and signaling a good entry point for more risky assets like small-cap and OTC stocks.
Conclusion
While risks of recession are growing, any data showing a possible slow down in economic activity could pause rates (if not push them down), and setup a "big short squeeze" in the select small-cap OTC stocks.
As we always say, "SELL the hype, BUY the fear!"
Register to our investor newsletter for updates
https://ludlowresearch.com/investors/
---
Disclosures and Disclaimer:
THE MATERIAL HEREIN DOES NOT CONSTITUTE AN OFFER OR SOLICITATION IN ANY JURISDICTION WHERE OR TO ANY PERSON TO WHOM IT WOULD BE UNAUTHORIZED OR UNLAWFUL TO DO SO.
This reports contains certain statements that may be deemed "forward-looking" statements. Forward looking statements are statements that are not historical facts and are generally, but not always, identified by the words "expects", "plans", "anticipates", "believes", "intends", "estimates", "projects", "potential" and similar expressions, or that events or conditions "will", "would", "may", "could" or "should" occur. Although the Company believes the expectations expressed in such forward-looking statements are based on reasonable assumptions, such statements are not guarantees of future performance and actual results may differ materially from those in forward looking statements. Forward looking statements are based on the beliefs, estimates and opinions of the Company's management on the date the statements are made. Except as required by law, the Company undertakes no obligation to update these forward-looking statements in the event that management's beliefs, estimates or opinions, or other factors, should change.
Ludlow Research ("Ludlow"), and its parent company Ludlow Consulting, LLC, are not registered broker-dealers or investment advisers with the U.S. Securities and Exchange Commission, the Financial Industry Regulatory Authority ("FINRA"), or any state securities regulatory authority.
Content contained herein includes facts, views, opinions and recommendations of individuals and organizations deemed of interest. Ludlow does not guarantee the accuracy, completeness or timeliness of, or otherwise endorse these views, opinions or recommendations, or give investment advice. Ludlow, its affiliates, or directors, may or may not hold a position in the above security from time to time, and investors are encouraged to consider this as a possible conflict of interest when reviewing this information. In Compliance with SEC Rule 17B Ludlow was not compensated at time of this research alert. Investments is speculative 'penny stocks', as defined by the SEC, may involve a high degree of risk.
INVESTORS ARE HIGHLY ENCOURAGED TO CONSULT WITH A FINANCIAL ADVISOR BEFORE MAKING ANY AND ALL INVESTMENT DECISIONS.