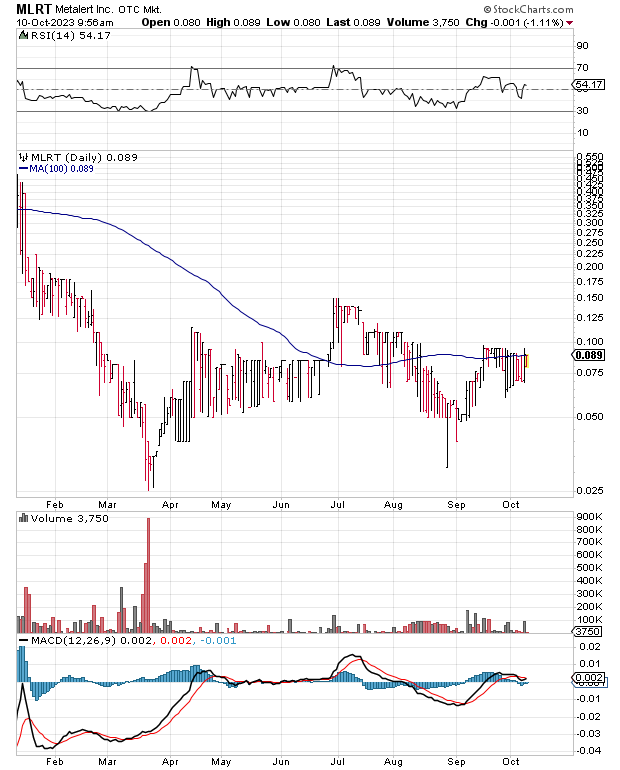 (NEW YORK)–The recent news from MetAlert (OTC: MLRT) presents a bullish opportunity for investors. MetAlert's acquisition of Level 2 Security and first commercial order of the GunAlert firearm recovery device come at an opportune time.
The gun safety market is rapidly expanding. The Office of Justice Programs just committed an unprecedented $100 million for community violence intervention programs. This federal investment in gun crime reduction represents the largest in history. As gun safety becomes a priority, demand for innovative technologies like GunAlert will likely surge.
Retail thefts are also rampant, with over $45 billion in losses annually in the US according to the National Retail Federation. MetAlert's broader portfolio of asset tracking and recovery technologies, like its "If It Moves…" alert system, are well-positioned to tap into retail loss prevention efforts.
With expertise in GPS and motion detection, MetAlert is primed to capitalize on growing commercial and public sector demand. Its patented technology platform has versatility across applications from firearm monitoring to general asset tracking.
Early traction evidenced by the Range USA order validates market appetite. Overall, MetAlert's timely execution on strategic M&A and product development represent key milestones. For investors, MetAlert presents an attractive opportunity with multiple avenues for growth across the safety and asset tracking markets.
INVESTOR HIGHLIGHTS
First commercial order received for GunAlert firearm recovery device from Range USA's 40+ locations. Validates product-market fit.


Acquisition of Level 2 Security provides motion detection and GPS tech expertise for expanding into gun safety market. Strategic M&A.

$100 million federal grant funding for community violence intervention represents huge growth potential for gun safety tech.

Broader portfolio including "If It Moves…" anti-theft tech taps into $45 billion US retail theft prevention industry. Diversified product line.
Register to our investor newsletter for updates
https://ludlowresearch.com/investors/
About MetAlert, Inc
MetAlert (OTC: MLRT) and its subsidiaries are engaged in designing, developing, manufacturing, distributing, selling, and licensing products, services, and intellectual property in the GPS/BLE wearable technology, personal location, wandering assistive technology, and health data collection and monitoring. With over 20 years of experience and an extensive patent portfolio, MetAlert is a leading solution provider for consumers/patients afflicted with Alzheimer, dementia, and autism. This market represents approximately 2.9% of the world's population. The company offers global end-to-end hardware, software, and connectivity solutions, in addition to developing two-way tracking technologies, which seamlessly integrate with consumer products, enterprise and government agency applications. Utilizing the latest in miniaturized, low power consumption GPS, Cellular, RF, NFC, and BLE technologies, enabling caregivers to track and monitor patients in real time. Known for its game-changing and award-winning patented GPS SmartSole® — think Dr. Scholl's meets LoJack, the world's first invisible wearable technology tracking device created for those at risk of wandering due to Alzheimer's, dementia, autism, and traumatic brain injury. MetAlert's subscription-based business model is built around technology innovation with intellectual property protection. The company has international distributors servicing customers across the globe with subscribers in over 40 countries and is a U.S. Military Government contractor. Other customers include public health authorities, municipalities, emergency and law enforcement, private schools, assisted living facilities, NGOs, small business enterprises, senior care homes, and consumers. www.MetAlert.com
---
Disclosures and Disclaimer:
THE MATERIAL HEREIN DOES NOT CONSTITUTE AN OFFER OR SOLICITATION IN ANY JURISDICTION WHERE OR TO ANY PERSON TO WHOM IT WOULD BE UNAUTHORIZED OR UNLAWFUL TO DO SO.
This reports contains certain statements that may be deemed "forward-looking" statements. Forward looking statements are statements that are not historical facts and are generally, but not always, identified by the words "expects", "plans", "anticipates", "believes", "intends", "estimates", "projects", "potential" and similar expressions, or that events or conditions "will", "would", "may", "could" or "should" occur. Although the Company believes the expectations expressed in such forward-looking statements are based on reasonable assumptions, such statements are not guarantees of future performance and actual results may differ materially from those in forward looking statements. Forward looking statements are based on the beliefs, estimates and opinions of the Company's management on the date the statements are made. Except as required by law, the Company undertakes no obligation to update these forward-looking statements in the event that management's beliefs, estimates or opinions, or other factors, should change.

Ludlow Research ("Ludlow"), and its parent company Ludlow Consulting, LLC, are not registered broker-dealers or investment advisers with the U.S. Securities and Exchange Commission, the Financial Industry Regulatory Authority ("FINRA"), or any state securities regulatory authority.

Content contained herein includes facts, views, opinions and recommendations of individuals and organizations deemed of interest. Ludlow does not guarantee the accuracy, completeness or timeliness of, or otherwise endorse these views, opinions or recommendations, or give investment advice. Ludlow, its affiliates, or directors, may or may not hold a position in the above security from time to time, and investors are encouraged to consider this as a possible conflict of interest when reviewing this information. In Compliance with SEC Rule 17B Ludlow was not compensated at time of this research alert. Investments is speculative 'penny stocks', as defined by the SEC, may involve a high degree of risk.
INVESTORS ARE HIGHLY ENCOURAGED TO CONSULT WITH A FINANCIAL ADVISOR BEFORE MAKING ANY AND ALL INVESTMENT DECISIONS.