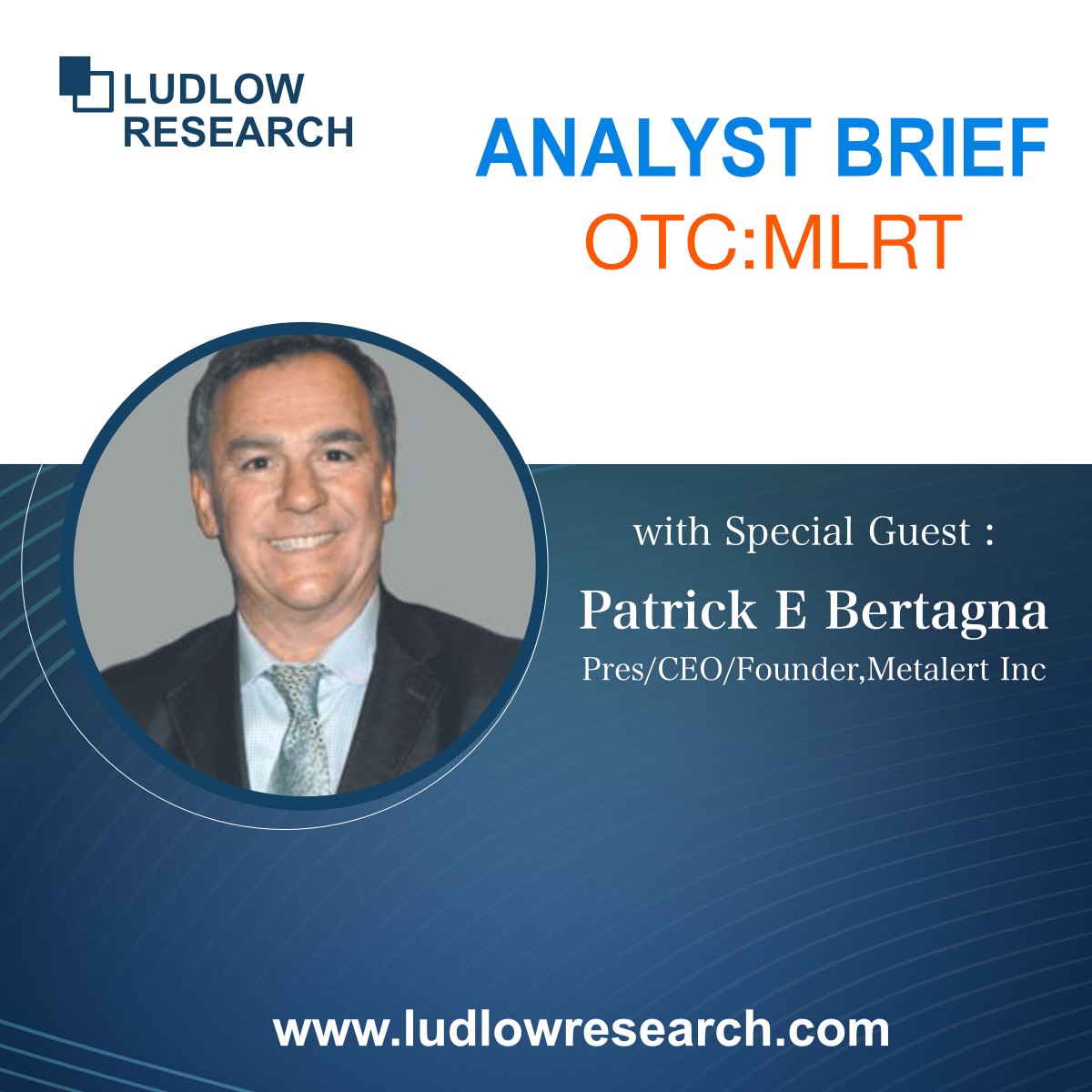 MetAlert, Inc. (OTC: MLRT) is a pioneer in smart, mobile, and wearable tracking and recovery location-based solutions, supported through a proprietary iot enterprise monitoring platform and intellectual property portfolio. The Company offers a global end-to-end solution of hardware, software and connectivity and develops two-way GPS tracking technologies, which seamlessly integrate with consumer products and enterprise applications, utilizing the latest in miniaturized, low power consumption GPS, Cellular, RF, NFC, and BLE technology, enabling subscribers to track in real time the whereabouts of people or high value assets. The Company has international distributors servicing customers across the globe with subscribers in over 40 countries, and is a U.S. Military Government contractor. Other customers include public health authorities and municipalities, emergency and law enforcement, private schools, assisted living facilities, NGOs, small business enterprises, senior care homes, and consumers. www.MetAlert.com
---
Conducted: Jan. 05, 2023
We are here today with MetAlert (MLRT) CEO Patrick Bertagna and we want to take this opportunity to dig a little deeper on specific topics we believe investors and shareholders want to know about.
The company recently did a restructuring, name change and ticker symbol change. Can you tell us why this was done, and how it ties into the Company's vision and long-term strategy?
MLRT: We waited patiently to do this until we had a clean balance sheet and were prepared to take the Company to the next level. Post pandemic we realized there was this tremendous opportunity in front of us, but our previous name, stock price and market cap did not properly reflect the Company's vision, mission, and most importantly where it was heading, and management felt it could actually get in the way of our growth plans. We are a fully reporting public company, that has never missed a filing, that conducts business in over 35 countries with international distributors, vendors, and customers such as the U.S Military, police departments, assisted living facilities, insurance providers, Medicaid, and other government institutions, etc., with significant opportunities in front of us, but being a penny stock with a non-descript name was not helping us.
Can you explain what you mean by "not helping us"
MLRT: Penny stocks for the most part are perceived as companies with great ideas, perhaps in the early pre revenue stage, that may not be fully reporting or have an experienced management team, or have yet to bring a product to market at scale.
We are different, we have years of experience, an extensive patent portfolio (30+), we are a leading solution provider for consumers/patients afflicted with Alzheimer, Dementia, and Autism (ADA) which represents approximately 2.9% of the world's population. We are fully reporting, we generate high margin revenues, with customers across the globe. We have award-winning technology, products that are used by police departments and in research grants by leading universities, supported by the National Institute of Health (NIH). In addition, we garner a lot of media attention. We have been seen on shows like keeping up with the Kardashians, and our flagship product the GPS SmartSole impacts so many people's lives which is a great human interest story that has been covered on FOX News, ABC News, CBS News, NBC News, Yahoo Finance, NY Business Digest, L.A. Business Journal, PubCo Insights, Belmont Star, Herald Market and Security Solutions Watch just to name a few, but we were a penny stock. These 2 worlds did not reconcile and therefore we had to make big changes. We needed a new bolder name that articulated our vision, a higher stock price, a larger market cap. We needed to get out of the penny stock world and start attracting new investors so that we could position ourselves for real growth and ultimately an up list.
Talk to us about this post pandemic opportunity you realized
MLRT: During the pandemic we learned that a person's overall health was key in terms of severity of contracting Covid and life or death. We also observed getting a checkup at a medical facility was sometimes perceived as a greater risk to someone's health than their existing health issue they were experiencing. This along with some other converging factors led us to this opportunity to expand our tracking and monitoring platform to a complete indoor/outdoor remote patient monitoring solution, with a long-term predictive A.I. big data play.
Supply chain issues have been all over the news. Can you give us an update on where things stand currently on MetAlert's chip supplies, and outlook going into 2023?
MLRT: For our NFC products we were able to anticipate the shortages placing orders in 2021 and early 2022 to meet our forecasted demand. Because the product has very few components, we were able to source the chips early and we continue to receive orders without delays. As a result, we have grown this business by over 300% in recent quarters. Unfortunately, two factors negatively impacted our ability to do the same with our GPS SmartSole. First is we were in the process of redesigning the board to our 4G LTE with Bluetooth and Wi-Fi, so at the time we were making purchases for NFC chips, we did not have all of the components or what we call the BOM bill of materials finalized, so we were only able to order some chips, not all of them. Second, because there are over 50 different components in our SmartSoles, if one is unavailable it holds up production completely. Unfortunately, we have run into this problem several times, most recently in Q3 and Q4. Limiting us to only filling about 2-3% of our SmartSole orders. The good news is we are seeing an improvement in capacity from our main suppliers, we started receiving components that we ordered months ago, and barring any unforeseen global problems, we expect to start ramping up production in Q1 and have these issues behind us by Q2 2023.
Can you be a little more specific about production ramp up and back orders getting fulfilled?
MLRT: We plan to start a production run in the coming weeks and ramp up production throughout Q1 and expect to kick production in high gear in Q2. We should be able to start fulfilling backorders in February and March and expect to get caught up by early Q2. Then starting in Q2 heading into Q3 our goal is to be able to meet our demand and ship orders in days or weeks, rather than months.
The company recently announced becoming a reseller of RoomMate a remote monitoring device to track people at home or assisted living facilities. Can you tell us a bit more about this product and will there be an expansion of new health related medical device products in 2023?
MLRT: RoomMate is a great product that uses very cool 3D infrared technology. It's a simple to use solution for looking after patients without intruding on their personal space, allowing for a total 'anonymized' supervision and monitoring service using Infrared 3D technology. In addition, this product also detects specific movements and provides alerts which do not require staff or caregivers to be glued to screens. This is a big time and cost savings for caregivers. Every person's motion is monitored independently through a wall mounted sensor which can be set up in less than 30 mins. This product now puts us in the indoor monitoring and preventative space, really expanding our health and wellness approach to remote patient monitoring.
What's the revenue model for RoomMate?
MLRT: You can buy it, and it comes with a monthly subscription plan, and we also have lease to own plans and no contract monthly rentals, so it falls right in line with our growth strategy of adding more users and raising our revenue per user (RPU) business model. But we are not stopping here, in 2023 we have plans to introduce several more health and wellness solutions, so stay tuned.
You mentioned earlier that you have high margin revenues, can you elaborate and also talk about your RPU, revenue per user?
MLRT: Our devices are proprietary and unique, allowing us approximately 35% blended (wholesale/retail) margins, which is higher than the industry standard for hardware. Our recurring subscriptions and licensing are at almost 90%, so collectively we have very strong margins. As for RPU, our focus, besides growing our user base, is to increase the revenue per user. For example, our SmartSoles generate around $22.00 per user per month, the SmartSole plus can add another $10.00 - $15.00 per month, Roommate, our indoor remote patient monitoring for fall detection can add another $75 per month. We plan to add telehealth services in 2023 and that will add another $8.00 - $10.00 per month, so the more products and services we add to our offerings the higher the RPU. This is what contributes to high margins, having the ability to upsell to existing customers, which reduces our customer acquisition costs, hence raising our overall margins.
Variable convertible notes, often referred to as toxic debt can be very destabilizing to a company's share price, do you have any of these notes on your balance sheet?
MLRT: No, we have repeatedly stated we were no longer going to use variable convertible debt as a financing structure to fund growth. We decided years ago to start paying off those notes and we are happy to report we have eliminated all variable convertible debt from our balance sheet. Now all our debt is either long term with a modest interest rate, and if convertible, has a fixed price conversion. Unlike a variable conversion price where you never know how many shares will get issued to pay off the debt, a fixed price conversion locks in the number of shares issued so we can quantify the cost in terms of shares and therefore not create big dilution. Worth noting, over 60% of the debt on our books is held by management. In summary all our current debt is nontoxic and very manageable. Another differentiator and why we didn't want to be a penny stock anymore.
There is a lot of talk about a possible recession, would that impact MetAlert?
MLRT: This is something we have a very good and long-standing track record on. WE DON'T BURN A LOT OF CASH. Besides keeping our expenses to a minimum, not spending money on lavish things, our main counter measure is thanks to our board and management team, which take much lower than industry standard wages, they also defer approximately a third of their cash compensation. If you look at our balance sheet, just about all our debt, is years of deferred cash comp. Talk about keeping management motivated, we all know we need to work very hard in order to eventually get paid. Between not spending a lot, not subordinating a heavy debt load, along with providing high margin must have products and services, is how we plan to face a possible economic slowdown. Remember our products are not luxury items that people turn off when the economy slows down, our products are essential to our users, their loved ones, and caregivers.
Lastly you mentioned a possible up list in the future, is this just exploratory or have you started taking concrete steps towards that especially in terms of the requirements.
MLRT: We definitely have our sights set on up listing to a more senior exchange in 2023 and have begun taking some steps. Everything we have been doing in the past 6 months has been to position us for growth and an up list in mind. The rebranding and restructuring, a higher stock price, adding more products and partnerships to our portfolio, engaging Joseph Gunnar & Co., LLC as financial advisors and exploring acquisitions. The list of requirements to up list is extensive, for example, we will need to add a few independent directors. We will need a higher stock price and to raise our shareholder equity, another requirement is you need at least 400 round lot shareholders, round lot means a shareholder with more than 100 shares. We currently have over 3,000 shareholders that have less than 100 shares, so hopefully some of them will increase their position and round up to 100. Certainly, eliminating our variable debt helped tremendously. These are just a few examples, but the point is we have been and will continue to drive towards that goal. We feel good about the steps we have taken so far and also realize there is more work ahead, but we have a well mapped out plan to get us there.
---
Disclosures and Disclaimer:
THE MATERIAL HEREIN DOES NOT CONSTITUTE AN OFFER OR SOLICITATION IN ANY JURISDICTION WHERE OR TO ANY PERSON TO WHOM IT WOULD BE UNAUTHORIZED OR UNLAWFUL TO DO SO.
This reports contains certain statements that may be deemed "forward-looking" statements. Forward looking statements are statements that are not historical facts and are generally, but not always, identified by the words "expects", "plans", "anticipates", "believes", "intends", "estimates", "projects", "potential" and similar expressions, or that events or conditions "will", "would", "may", "could" or "should" occur. Although the Company believes the expectations expressed in such forward-looking statements are based on reasonable assumptions, such statements are not guarantees of future performance and actual results may differ materially from those in forward looking statements. Forward looking statements are based on the beliefs, estimates and opinions of the Company's management on the date the statements are made. Except as required by law, the Company undertakes no obligation to update these forward-looking statements in the event that management's beliefs, estimates or opinions, or other factors, should change.
Ludlow Research ("Ludlow"), and its parent company Ludlow Consulting, LLC, are not registered broker-dealers or investment advisers with the U.S. Securities and Exchange Commission, the Financial Industry Regulatory Authority ("FINRA"), or any state securities regulatory authority.
Content contained herein includes facts, views, opinions and recommendations of individuals and organizations deemed of interest. Ludlow does not guarantee the accuracy, completeness or timeliness of, or otherwise endorse these views, opinions or recommendations, or give investment advice. Ludlow, its affiliates, or directors, may or may not hold a position in the above security from time to time, and investors are encouraged to consider this as a possible conflict of interest when reviewing this information. In Compliance with SEC Rule 17B Ludlow was compensated one thousand dollars for research report, and holds business relationships through affiliate company, and thus should be considered a conflict of interest when reviewing this information. Investments is speculative 'penny stocks', as defined by the SEC, may involve a high degree of risk.
INVESTORS ARE HIGHLY ENCOURAGED TO CONSULT WITH A FINANCIAL ADVISOR BEFORE MAKING ANY AND ALL INVESTMENT DECISIONS.