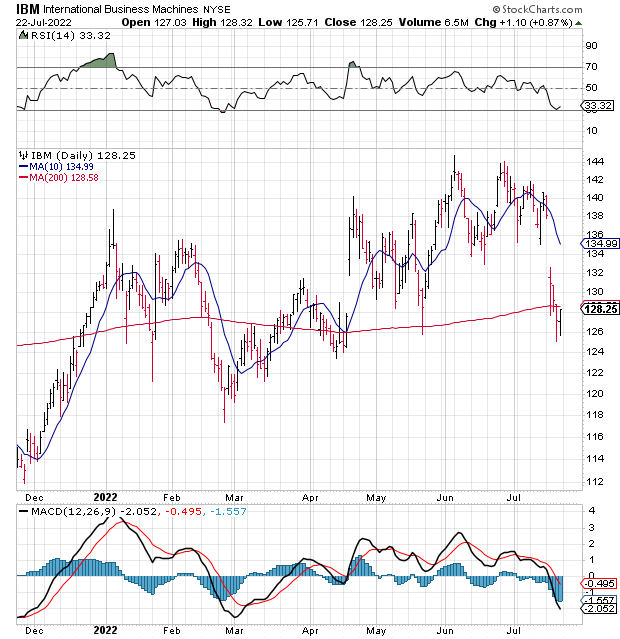 (NEW YORK)–International Business Machines Corp (NYSE:IBM) saw its stock drop sharply after reporting fairly decent earnings on foreign currency exchange concerns with stronger US dollar.
IBM reported a 16% revenue growth rate in Q2 2022. when excluding foreign currency exchange rates, and has greatly outperformed the market being down 2%, versus an 18% drop for the S&P 500 index.
Propelling IBM revenues higher were tech infrastructure sales, thanks to a new generation of Z Systems cloud and hybrid cloud computers, and consulting, which grew at 18%.
Value Tech and High Dividend
The recent rally in growth equities may be short lived and may see investors roll back into stocks with low PE's and solid dividend yields.
IBM currently has a Forward PE of 13, and Dividend Yield of 5.2%, making it an excellent technology value play on any market volatility.
Chart Indicates Oversold
IBM is down nearly 11% off recent highs in mid-June and closed just below its key 200-day moving average around $128. The RSI on IBM chart is now just above 30 indicating oversold conditions and may offer a good entry point for traders.
Based on potential swing back from Growth to Value, a weakening US Dollar, and charts oversold conditions, we feel IBM may offer good entry point for potential move back to mid-$130s to $140+ as solid value tech play.
About IBM
International Business Machines Corporation provides integrated solutions and services worldwide. The company operates through four business segments: Software, Consulting, Infrastructure, and Financing. The Software segment offers hybrid cloud platform and software solutions, such as Red Hat, an enterprise open-source solutions; software for business automation, AIOps and management, integration, and application servers; data and artificial intelligence solutions; and security software and services for threat, data, and identity. This segment also provides transaction processing software that supports clients' mission-critical and on-premise workloads in banking, airlines, and retail industries. The Consulting segment offers business transformation services, including strategy, business process design and operations, data and analytics, and system integration services; technology consulting services; and application and cloud platform services. The Infrastructure segment provides on-premises and cloud-based server and storage solutions for its clients' mission-critical and regulated workloads; and support services and solutions for hybrid cloud infrastructure, as well as remanufacturing and remarketing services for used equipment. The Financing segment offers lease, installment payment, loan financing, and short-term working capital financing services. The company was formerly known as Computing-Tabulating-Recording Co. International Business Machines Corporation was incorporated in 1911 and is headquartered in Armonk, New York. www.ibm.com
---
Disclaimer:
THE MATERIAL HEREIN DOES NOT CONSTITUTE AN OFFER OR SOLICITATION IN ANY JURISDICTION WHERE OR TO ANY PERSON TO WHOM IT WOULD BE UNAUTHORIZED OR UNLAWFUL TO DO SO.
The material herein is provided for informational purposes only and should not be construed as investment advice or an offer or solicitation to buy or sell securities.
This report contains certain statements that may be deemed "forward-looking" statements. Forward looking statements are statements that are not historical facts and are generally, but not always, identified by the words "expects", "plans", "anticipates", "believes", "intends", "estimates", "projects", "potential" and similar expressions, or that events or conditions "will", "would", "may", "could" or "should" occur. Although the Company believes the expectations expressed in such forward-looking statements are based on reasonable assumptions, such statements are not guarantees of future performance and actual results may differ materially from those in forward looking statements. Forward looking statements are based on the beliefs, estimates and opinions of the Company's management on the date the statements are made. Except as required by law, the Company undertakes no obligation to update these forward-looking statements in the event that management's beliefs, estimates or opinions, or other factors, should change.
Content contained herein includes facts, views, opinions and recommendations of individuals and organizations deemed of interest. Ludlow does not guarantee the accuracy, completeness or timeliness of, or otherwise endorse these views, opinions or recommendations, or give investment advice. Ludlow, its affiliates, or directors, may or may not hold a position in the above security from time to time, and investors are encouraged to consider this as a possible conflict of interest when reviewing this information. In Compliance with SEC Rule 17B Ludlow was not compensated for this alert, but may hold long or short positions in above mentioned securities, and thus should be considered a conflict of interest when reviewing this information. Investments is speculative 'penny stocks', as defined by the SEC, may involve a high degree of risk.
INVESTORS ARE HIGHLY ENCOURAGED TO CONSULT WITH A FINANCIAL ADVISOR BEFORE MAKING ANY AND ALL INVESTMENT DECISIONS.