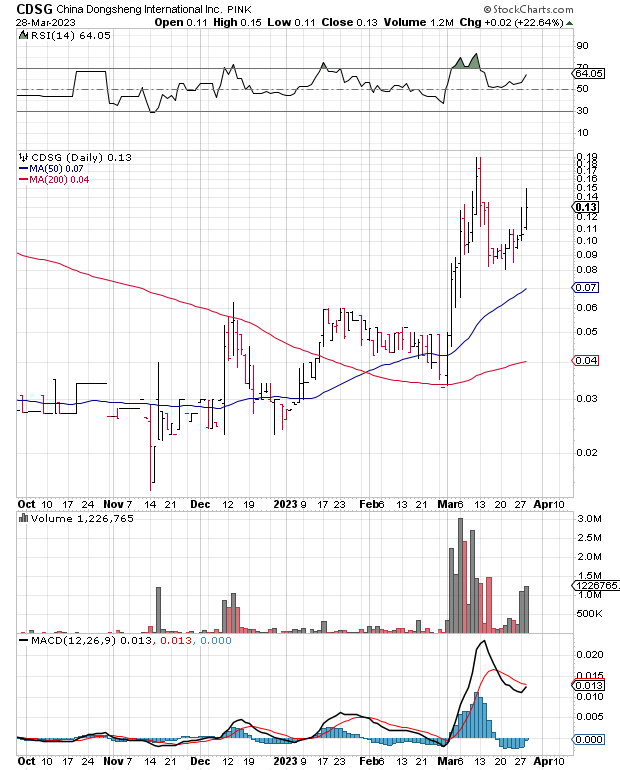 (NEW YORK)–Ludlow Research alerted its subscribers on March 28, 2023 that it had initiated a research opinion on Titan Lithium (OTC:CDSG) based on strong test results from their Tanzania Lithium mine, and our continued bullish outlook for the Lithium sector.
In late Feb. 2023, the company signed a Definitive Agreement with Kilimanjaro Lithium, whereby CDSG would have the exclusive right to earn up to 100% interest in two large projects in The United Republic of Tanzania.
The Tanzanian projects, which cover more than 150 square miles, adds to the company's current Lithium portfolio, including their West End Lithium, a project that currently holds the largest U.S lithium carbonate equivalent (LCE) resource.
Titan 1 Results
Initial surface sampling at the Titan 1 lithium property in Tanzania returned values which averaged 2.64% Li2O (12,266 ppm Li) over 1.25 miles (2kms). The highest grade encountered on the western line area returned 4.82% Li2O (22,400 ppm Li).
Titan 2 Results
The Titan 2 project is located approximately 20 miles west of the larger Titan 1 claim.
After the strong initial geochemical sample results that averaged 3,920 ppm Lithium, the technical team sampled a broader area employing regular spaced samples over a grid that covers 6.2 square miles.
With approximately half of the soil sample results from the grid in, we note that the new positive Lithium results averaged 4,600 ppm Lithium. The lowest positive value returned 900 ppm Li and the highest value, located near the center of grid, returned 1.95% Li2O (9,100 ppm Li) which was nearly identical to the previous high value returned from the area.
What Initial Tests Show
A typical run of Lithium mine ore can usually contain 1-2% Li2O. Based on CDSG initial surface tests, the company looks like it could be sitting on a substantial resource of high-grade Lithium on its Tanzania project.
For these reasons, Ludlow Research has initiate research coverage on Titan Lithium (OTC:CDSG) with the potential for substantial price increase from its current levels.
Ludlow will be releasing a more detailed report, price prediction, and analyst interview with CDSG in the near-future. Register to receive updates. https://ludlowresearch.com/investors/
About Titan Lithium
China Dongsheng International Inc. (OTC Markets: CDSG), through its wholly owned subsidiary Titan Lithium, Inc., is a lithium explorer and developer with operations in Nevada, USA and The United Republic of Tanzania. www.titanlithiuminc.com
---
Disclosures and Disclaimer:

THE MATERIAL HEREIN DOES NOT CONSTITUTE AN OFFER OR SOLICITATION IN ANY JURISDICTION WHERE OR TO ANY PERSON TO WHOM IT WOULD BE UNAUTHORIZED OR UNLAWFUL TO DO SO.


This reports contains certain statements that may be deemed "forward-looking" statements. Forward looking statements are statements that are not historical facts and are generally, but not always, identified by the words "expects", "plans", "anticipates", "believes", "intends", "estimates", "projects", "potential" and similar expressions, or that events or conditions "will", "would", "may", "could" or "should" occur. Although the Company believes the expectations expressed in such forward-looking statements are based on reasonable assumptions, such statements are not guarantees of future performance and actual results may differ materially from those in forward looking statements. Forward looking statements are based on the beliefs, estimates and opinions of the Company's management on the date the statements are made. Except as required by law, the Company undertakes no obligation to update these forward-looking statements in the event that management's beliefs, estimates or opinions, or other factors, should change.
Ludlow Research ("Ludlow"), and its parent company Ludlow Consulting, LLC, are not registered broker-dealers or investment advisers with the U.S. Securities and Exchange Commission, the Financial Industry Regulatory Authority ("FINRA"), or any state securities regulatory authority.
Content contained herein includes facts, views, opinions and recommendations of individuals and organizations deemed of interest. Ludlow does not guarantee the accuracy, completeness or timeliness of, or otherwise endorse these views, opinions or recommendations, or give investment advice. Ludlow, its affiliates, or directors, may or may not hold a position in the above security from time to time, and investors are encouraged to consider this as a possible conflict of interest when reviewing this information. In Compliance with SEC Rule 17B Ludlow was not compensated at time of this research alert. Investments is speculative 'penny stocks', as defined by the SEC, may involve a high degree of risk.
INVESTORS ARE HIGHLY ENCOURAGED TO CONSULT WITH A FINANCIAL ADVISOR BEFORE MAKING ANY AND ALL INVESTMENT DECISIONS.