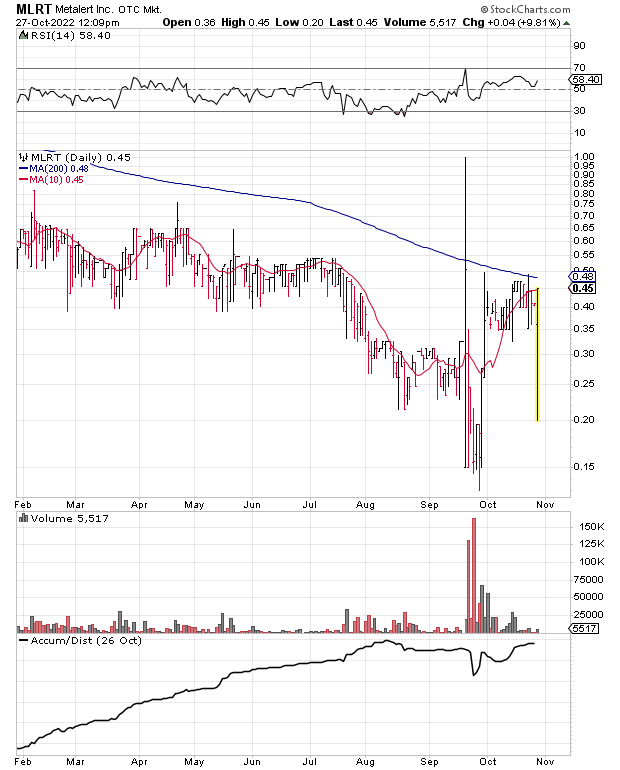 (NEW YORK)--Ludlow Research issued an upgrade research opinion on MetAlert (OTC:MLRT) with $1.00 to $1.25 valuation target on agreement with major IoT connectivity company out of Germany.
On Oct, 26, 2022, Pod Group, a major German company specialized in advanced connectivity solutions for enterprise IoT applications with offices worldwide and access to 600+ networks in 185 countries, announced in a press release that MetAlert, Inc. (MLRT) selected their ENO ONE IoT connectivity for their SmartSole tracking device for Alzheimer's and Autism sufferers.

Pod Group parent company, Giesecke+Devrient (G+D), is a global security technology group headquartered in Munich, which generated $2.31 billion in euros in 2020.
Pod Group's ENO ONE eSIM solution offers global coverage over different technologies, such as 4G/LTE, CAT-M, and LTE-M, allowing MetAlert to tap into the low-power cellular options to increase battery life.
The eSIM's ability to roam across multiple networks grants the device the broadest available cellular coverage. In addition, the ability to swap networks Over The Air (OTA) via a centralized platform, means that the optimum connectivity option can be updated remotely, without the need to access the device.
Full press release
https://www.podgroup.com/metalert-selects-eno-one-esim/
Summary
MetAlert (MLRT) partnership with multi-billion dollar Germen technology group is a major boost of credibility that moves their healthcare and asset tracking devices to a global scale. Readers should also make note this news was released by Pod Group themselves, which may indicate their high interest in MetAlert, and their healthcare tracking projects.
Based on MetAlert low public float of 3.3 million shares, and no dilution expected from convertible notes, Ludlow Research has issued a speculative short-term target on MLRT of $1.00 to $1.25 per share.
About Pod Group
Pod Group is a specialist in IoT SIM cards and advanced connectivity solutions for enterprise IoT applications, bringing over 20 years' experience and innovation to the telecommunications market. An Enterprise Network Operator (ENO), Pod goes beyond traditional connectivity service providers to offer unique, customized solutions designed to give enterprises of all sizes ownership and control of their IoT connectivity, from the SIM card right up to a complete private network. With offices worldwide and access to 600+ networks in 185 countries, Pod's global team supports enterprises across a broad range of sectors as they take ownership of their IoT connectivity.  For more information on Pod's IoT connectivity solutions, please visit: https://www.podgroup.com
About MetAlert
MetAlert (OTC: MLRT) is a pioneer in smart, mobile, and wearable tracking and recovery location-based solutions, supported through a proprietary IoT enterprise monitoring platform and intellectual property portfolio. The Company offers a global end-to-end solution of hardware, software and connectivity and develops two-way GPS tracking technologies, which seamlessly integrate with consumer products and enterprise applications. Utilizing the latest in miniaturized, low-power consumption GPS, Cellular, RF, NFC and BLE technology, enabling subscribers to track in real time the whereabouts of people or high value assets. www.metalert.com 
---
Disclosures and Disclaimer:
THE MATERIAL HEREIN DOES NOT CONSTITUTE AN OFFER OR SOLICITATION IN ANY JURISDICTION WHERE OR TO ANY PERSON TO WHOM IT WOULD BE UNAUTHORIZED OR UNLAWFUL TO DO SO.
This reports contains certain statements that may be deemed "forward-looking" statements. Forward looking statements are statements that are not historical facts and are generally, but not always, identified by the words "expects", "plans", "anticipates", "believes", "intends", "estimates", "projects", "potential" and similar expressions, or that events or conditions "will", "would", "may", "could" or "should" occur. Although the Company believes the expectations expressed in such forward-looking statements are based on reasonable assumptions, such statements are not guarantees of future performance and actual results may differ materially from those in forward looking statements. Forward looking statements are based on the beliefs, estimates and opinions of the Company's management on the date the statements are made. Except as required by law, the Company undertakes no obligation to update these forward-looking statements in the event that management's beliefs, estimates or opinions, or other factors, should change.
Ludlow Research ("Ludlow"), and its parent company Ludlow Consulting, LLC, are not registered broker-dealers or investment advisers with the U.S. Securities and Exchange Commission, the Financial Industry Regulatory Authority ("FINRA"), or any state securities regulatory authority.
Content contained herein includes facts, views, opinions and recommendations of individuals and organizations deemed of interest. Ludlow does not guarantee the accuracy, completeness or timeliness of, or otherwise endorse these views, opinions or recommendations, or give investment advice. Ludlow, its affiliates, or directors, may or may not hold a position in the above security from time to time, and investors are encouraged to consider this as a possible conflict of interest when reviewing this information. In Compliance with SEC Rule 17B Ludlow was compensated one thousand dollars for research report, and holds business relationships through affiliate company, and thus should be considered a conflict of interest when reviewing this information. Investments is speculative 'penny stocks', as defined by the SEC, may involve a high degree of risk.
INVESTORS ARE HIGHLY ENCOURAGED TO CONSULT WITH A FINANCIAL ADVISOR BEFORE MAKING ANY AND ALL INVESTMENT DECISIONS.