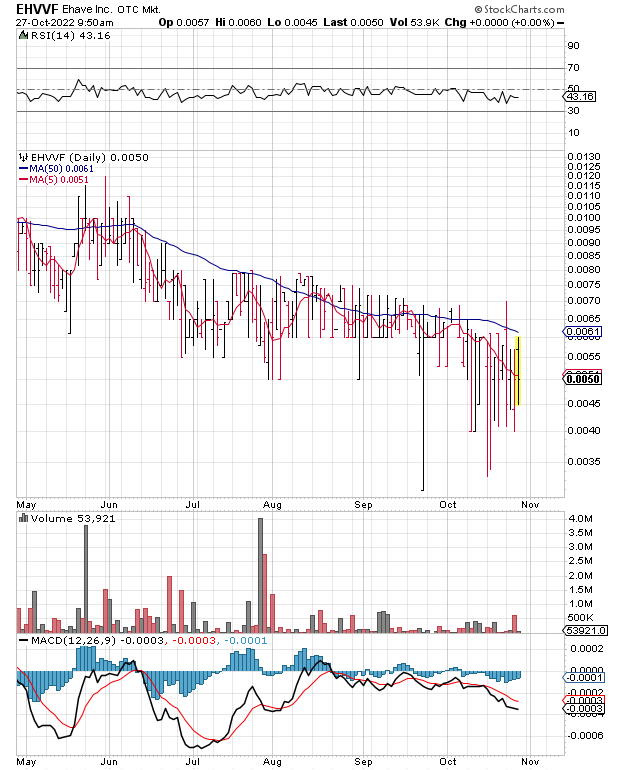 (NEW YORK)–Ludlow Research initiates research coverage on Ehave, Inc. (OTC Pink: EHVVF) (the "Company"), a leading healthcare services and technology company, based on growing risk for mental health crisis and demand for alternative treatment options.
REPORT HIGHLIGHTS
• Mobile Ketamine treatment service. KetaDASH offers ketamine for treatment resistant depression, anxiety, PTSD, and other conditions. After a short telemedicine visit, an experienced nurse will arrive at your location of choice to administer the sublingual treatment. www.ketadash.com
• Psychedelics Genetic Testing. Help identify how an individual's DNA profile can affect their response to hallucinogenic drugs. The information contained in this report is based on research related to specific genetic polymorphisms and their influence on pharmacodynamics, pharmacokinetics and mental health risk factors for psychedelics use.
• AI Powered Mental Health Apps. Continuous and reliable data is the missing key needed to create personalized care. Show your care through our mobile-first solution, backed by science and created for mental health analysis and monitoring, mood and emotions tracking through vocal biomarkers www.metahealthu.com
• Stake in Potential PSLY.COM Merger. Mycotopia Therapies and Ei.Ventures will be structured to form PSLY.COM, and operate as subsidiaries after the merger. PSLY.COM will apply for a NASDAQ listing. Mycotopia Therapies (OTC:TPIA) primary focus is on mushroom and psychedelic opportunities. www.mycotopiatherapies.com
As economies across the globe emerging from pandemic restrictions many nations are facing a growing mental health crisis resulting from economic stress and long waiting lines for psychiatric care.
Increases in mental health disorders, such as anxiety, depression, and post-traumatic stress disorder (PTSD) are resulting in renewed demand for alternative mental health treatments such as psychedelics and Ketamine, which could increase both consumer demand and regulatory outlook for Ehave operations into 2023.
To download the full report please visit https://ludlowresearch.com/reports/
About Ludlow Research
Ludlow Research is a New York based equity research firm that focuses on providing research coverage and investor awareness services to emerging small-cap companies. For over 15 years we have worked to provide our readers with a simple way of evaluating the current and potential value of small-cap companies, while garnering these clients greater market awareness to new investors. For more information, please visit www.ludlowresearch.com
About Ehave, Inc.
Ehave is a leading healthcare services and technology company, focused on progressing psychedelics-to-Therapeutics by engineering novel compounds and new treatment protocols for treating brain health. Together with our network of scientists and mental health professionals, we are on a mission to create safe and effective therapeutics for patients to address a multitude of mental health issues, leveraging clinical data to help us achieve optimal patient outcomes. Ehave's operations span across the entire USA, Canada, Jamaica, and Australia. Additional information on Ehave can be found on the Company's website at: www.ehave.com
---
Disclosures and Disclaimer:
THE MATERIAL HEREIN DOES NOT CONSTITUTE AN OFFER OR SOLICITATION IN ANY JURISDICTION WHERE OR TO ANY PERSON TO WHOM IT WOULD BE UNAUTHORIZED OR UNLAWFUL TO DO SO.
This reports contains certain statements that may be deemed "forward-looking" statements. Forward looking statements are statements that are not historical facts and are generally, but not always, identified by the words "expects", "plans", "anticipates", "believes", "intends", "estimates", "projects", "potential" and similar expressions, or that events or conditions "will", "would", "may", "could" or "should" occur. Although the Company believes the expectations expressed in such forward-looking statements are based on reasonable assumptions, such statements are not guarantees of future performance and actual results may differ materially from those in forward looking statements. Forward looking statements are based on the beliefs, estimates and opinions of the Company's management on the date the statements are made. Except as required by law, the Company undertakes no obligation to update these forward-looking statements in the event that management's beliefs, estimates or opinions, or other factors, should change.
Ludlow Research ("Ludlow"), and its parent company Ludlow Consulting, LLC, are not registered broker-dealers or investment advisers with the U.S. Securities and Exchange Commission, the Financial Industry Regulatory Authority ("FINRA"), or any state securities regulatory authority.
Content contained herein includes facts, views, opinions and recommendations of individuals and organizations deemed of interest. Ludlow does not guarantee the accuracy, completeness or timeliness of, or otherwise endorse these views, opinions or recommendations, or give investment advice. Ludlow, its affiliates, or directors, may or may not hold a position in the above security from time to time, and investors are encouraged to consider this as a possible conflict of interest when reviewing this information. In Compliance with SEC Rule 17B Ludlow was compensated three thousand six hundred dollars for research report, and holds business relationships through affiliate company, and thus should be considered a conflict of interest when reviewing this information. Investments is speculative 'penny stocks', as defined by the SEC, may involve a high degree of risk.
INVESTORS ARE HIGHLY ENCOURAGED TO CONSULT WITH A FINANCIAL ADVISOR BEFORE MAKING ANY AND ALL INVESTMENT DECISIONS.